Ravichandran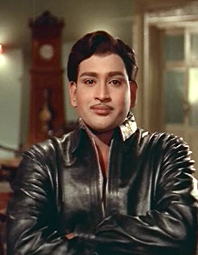 Ravichandran
Jaishankar and Ravichandran entered the Tamil cinema at a time when the industry was being virtually controlled by the two uncrowned kings, Shivaji and MGR. While jai evolved his own style and mannerisms, Ravichandran displayed his assorted talents in acting, dancing and fighting. Ravichandran was introduced by director Sridhar in his film "Kaadhalikka neramillai" in the year 1964. In the course of his many future films, he became the star of hope for many producers since right from his debut film, all his starrers became hits. Many Girls, Who fell for him, left their homes to meet and marry Ravichandran even after he got married! Once, when I was talking to his wife Vimala, I told her that if I were a woman, I would have kidnapped Ravichandran and married him! Ravichandran is a very affable person. His friendly behaviour and attitude towards media people is remaining the same till today. And, he has brought up his chindren Balaji, Lavanya and Hamsavardhan inculcating his good traits in them. "I got the opportunity to work in Director Sridhar's film through cameraman P. N. Sundaram. My given name is Raman. I signed a two year contract with chitralaya Films. I was initially paid a monthly salary of Rs. 500 which was subsequently raised to Rs. 750! After one year, my salary became Rs. 1,000 which was a big amount in those days because gold was selling just for Rs. 75 per sovereign!
" All my films including Idhayakamalam, Kumaripenn, Naan, Moondrezhuthu, Athe Kangal ran for more than 25 weeks. I worked very hard during that period. My films numbered from eight to ten per year. A scene in which I and 'Vijayapuriveeran' Anandan had to do horse-riding was shot for the film "Kalyana Mandapam". Anandan had formal training in horse-riding, sword-fight etc. But I didn't learn these arts then. When Anandan lashed his whip, it hit the nose of my horse. The provoked horse started galloping at break-neck speed. The unit members chased and saved me. During the shooting of a fight scene for the film "Enga Paappa". I volunteered to do the scene myself instead of my dupe. But I fractured my lef and was in bed for a few days. Though the doctor advised me 15 days rest, I went for the shooting within one week because I didn't want the producer to suffer because of my problem. In the year 1966, Thamizhvanan, editor of Tamil Magazine Kalkandu awarded me the title "Chinna MGR" for my performance in Kumaripenn. When my son Hamsavardhan expressed his wish to act in films. I arranged for his formal training in jogging, Horse-riding, dancing, fighting and acting. I introduced him through my own production "Manaseega Kaadhal". He is also a very cooperative artiste like me.
I've acted as hero in more than 100 films. I had paired with Jayalalitha in more number of films. It would be a real challenge to work with her as she vas very knowledgeable and talented. During tye shooting of the film " Baghdad perazhagi", when I was afraid to go near the lion, Jayalalitha was brave enough to stroke it. During the production of the film "Magarasi", I had chickenpox. I told Mr. Devar, the producer, to replace me as I was down with the disease. But Devar waited till I was completely cured and finished the film with me. I remaining grateful to him till end for this noble gesture and great heart, "said Ravichandran in a nostalgic tone.
Even today, Ravichandran is getting offers for acting. But he accepts only those roles that have some meaning and importance. His ambition is to see his son become a successful hero like him. But Ravichandran no more. He Passed away on 25.6.2011. May his soul Rest in Peace
Copyrights @ Majordasan