Movie News
Kamal Haasan Talk On Press Meet
Updated on : 08 November 2017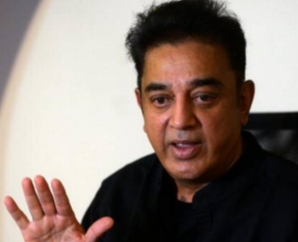 KH is not just an app it is a digital platform. It is not enough doing the right work, it should also be done well."
He pointed out Thirukkural and Dharma Chakkra (virtuous cycles) and said every one has it in mind. But it should be bought into action.
"My dream is to bring out many virtuous cycles through out Tamil Nadu. we cannot state it is a big dream and could not happen. If will all get together and work for it it will definitely come true.
Every virtual guru had taught to their followers to find out what good things to be done by travelling to many places. I also planned to go tour across Tamil Nadu and interact with people.
#MaiamWhistle, his app is in beta stage, will be live soon. Anyone can register their complaints on it! Whistle blowing is part of the App that raises signal where injustice happens. It may be blown by anybody in the state. This whistle can be blown against me too when I am going wrong. Will you blow whistle? I am very happy to introduce this.
There are reasons behind waiting to announce new party. I think there need not be separate announcement for new party announcement. I am not doing for myself it is for people and I believe this work continuous after me. It should be continued without any disturbance so I wanted to build the base strongly. So I am meeting experts, analysts in the fields, researching and building the foundation.
I am not putting out the name for the political party. It has been conceived and can be named any time. The name of the party and standing for election is not necessary as for now. I believe you will understand. I am still learning about politics and can be said the tour is also for that purpose. I will do my bit to the society. I hope all will congrats us in future. This is the message I wanted to convey to you all," Kamal Haasan addressed the press.
Latest News